10 Most Promising Business Intelligence Solution Providers - 2021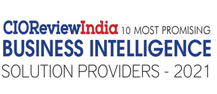 The advancements in the technology creating new business challenges are fuelling the growth of Indian business intelligence sector. From small start-ups to global enterprises are trying to secure data of the companies and their clients, as the advent of technology has made it an invaluable asset. With the emergence of cloud computing and Artificial Intelligence in the business, the computations and decision making have become data-driven. With the changing trends in the business sector business intelligence solutions have become an integral part in the business. According to the reports of 'Markets And Markets' the global Business Intelligence Market size is expected to grow from $23.1 billion in 2020 to $33.3 billion by 2025, at a Compound Annual Growth Rate (CAGR) of 7.6 percent during the forecast period. Various factors such as the growing focus on digital transformation, rising investments in analytics, rising demand for dashboards for data visualization, increase in adoption of cloud, and increase in data generation are expected to drive the growth of the Business Intelligence service Market. Finance business function segment is expected to expand and hold a huge market share. The BFSI vertical is expected to hold the largest market size during the forecast period owing to the sensitivity of financial data and needs to coordinate with numerous other sectors like stock exchanges, tax authorities and more. Healthcare and life sciences are also expected to grow at a high CAGR during the forecast period.
Understanding the need of the hour and studying key progressions and developments in SCM technology and solution sector, team CIOReviewIndia has come up with a list of '10 Most Promising Business Intelligence Solution Providers - 2021' who have proved their proficiency in the sector with a deep knowledge in technology. The following list is prepared closely scrutinized by a panel of judges consisting of CEOs, CIOs, CXO, analysts, and our editorial board. We believe that these service providers will help in transforming business processes through their significant expertise and knowledge.
We present to you CIOTechOutlook 10 Most Promising Business Intelligence Solution Providers - 2021.
10 Most Promising Business Intelligence Solution Providers - 2021
| Company Name | Company Description |
| --- | --- |
| NeoQuant | Facilitating services and solutions for Microsoft SQL Server , MSBI, SSAS SSRS SSIS, Power BI, Machine Learning and more |
| | |
| --- | --- |
| BlueCrimson | A team of seasoned professionals contributing to solutions of business problems in Small, Medium, BIG Data, enterprise solutions, consulting, staffing, B-O-T, and governance services |
| Classic Informatics | Services and solutions for business intelligence are offered in BI strategy, ETL projects, dashboard & reporting development and data analysis |
| CRG Solutions | Provider of business intelligence services and solutions such as Tableau, Alteryx, Data Warehousing, Corporate Trainings, ETL, BI, Analytics (Descriptive/Predictive/Prescriptive), Support Services... |
| DataToBiz | Transforming businesses with Power BI solutions Power BI integration, Power BI implementation, Power BI development and Power BI customization |
| EzDataMunch | Contributing to the business progress with insight and access to critical data, KPIs and metrics, with user-friendly and cost-effective enterprise dashboard applications on a pay-per use model |
| Intellicus | Solutions offered includes topnotch technologies of data integration, BI and analytics for retail, healthcare, BPO, logistics, manufacturing and human resource |
| SPEC INDIA | Solving business challenges with technologies such as Enterprise Mobility, Business Intelligence & Analytics, Cloud Services, DevOps, Artificial Intelligence, Machine Learning, Java Development... |
| Thinklayer Minds | Offers connection with traditional datasources like Amazon RDS, MySQL, MongoDB, Cassandra, NoSQL, Oracle Systems, SAP and many more for e-commerce, manufacturing, hospitality and insurance |
| XenonStack | Integrating business intelligence services & solutions with technologies of Platform Strategy & Development, Cloud Native Transformation, Enterprise Devops, Data, & AI Strategy and... |