20 Most Promising Business Intelligence Solution Providers - 2020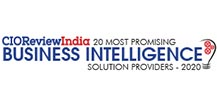 In recent years, the business intelligence market has been gaining considerable traction. Various trends such as increasing adoption of Cloud, development of Advanced Analytics, implementation of Data-Driven decision making and emergence of IoT-Enabled technologies have been acting as the key market drivers. The successful implementation of BI solutions equips businesses with easy-to-use data exploration, data aggregation, cutting-edge analytics, and data visualization tools and techniques. Essentially, businesses have begun deploying BI tools in order to amalgamate massive data sets that are high in volume and variety. These data sets are then utilized to derive actionable insights which can then be leveraged by key stakeholders to make quick and better informed decisions. In fact, several researches conducted predict that the overall business intelligence market is forecasted to grow to 26.88 Billion Dollars by 2021, at a CAGR of 9.5 percent. However, the lack of a skilled workforce and the need for effective management and maintenance of Data Quality act as deterrents to the successful deployment of BI. Businesses need a solution provider with the perfect blend of end-to-end BI solutions and industry-rich knowledge to work with, that can help them achieve their business goals.
Perfectly understanding what every business is on the lookout for, CIOReviewIndia comes to the aid with a comprehensive list of "20 Most Promising Business Intelligence Solution Providers". This list has been drawn up to assist organizations in finding the right solution provider that meets every unique requirement. The vendors in this listing have been selected by a renowned panel of CEOs, CIOs, industry analysts and CIOReviewIndia editorial team.
We present to you CIOTechOutlook 20 Most Promising Business Intelligence Solution Providers - 2020.
Top Business Intelligence Solution Providers
| Company Name | Company Description |
| --- | --- |
| ProGen Business Solutions | Offers end-to-end services in the Business Intelligence and Data Warehousing domains such as Data Integration, Data Modeling, Data warehouse Development, Dashboard Development, Reporting,... |
| | |
| --- | --- |
| Datamatics Global Services | Offers next-generation business intelligence and data visualization platform. |
| DynPro | Delivers solutions across BI/Analytics, SAP, Application Management, and IT Staffing. |
| Excel Business Solutions | Provides a range of products across Business Intelligence, Enterprises Resources Planning, Document Management System, Web Content Management, and Lean ERP, among others. |
| Flatworld Edge | Offers Business Intelligence solutions driven by Power BI for immersive data visualizations and insights. |
| G-Square Solutions | Provides plug and play business intelligence bots along with analytics, machine learning and big data expert systems to the financial services industry. |
| INDUS B.I. | Offers business intelligence and data analytics solutions in the form of Business Dashboards, KPIs, and Reports among several others. |
| InfoCepts | Offers services across Modern Analytics, Cloud and Platform Modernization, Data Management, Strategic Advisory, and Managed Services. |
| ITTI | Offers system integrations and software services with core competence in the areas of Enterprise Business Solutions, Application Development & Maintenance services and Infrastructure Management... |
| Leadics | Provides design and implementation of BI services to automotive, energy, consumer products, retail and financial services industries. |
| MAQ Software | Specializes in Data Management and Reporting to help business users support their intuition with data. |
| MargMaker Solutions | Provides BI implementation and maintenance services for Microsoft and Oracle Business Intelligence solutions. |
| Maruti Techlabs | Provides technology consulting and solutions related to big data, business intelligence, analytics, bot development, mobile platforms, cloud systems and application development. |
| Nisum | Provides range of solutions across Business Intelligence, Cloud Services, Cloud Services, Scrum Team as a Service, and Digital Transformation. |
| Orbit Analytics | Offers a range of application integrations, reporting and analytics solutions with self-service, operational and ad-hoc capabilities. |
| SCS Tech | Offers Artificial Intelligence based advanced business intelligence tools to various industries. |
| Surtel Technologies | Provides a wide range of business intelligence products to various industries including automotive, retail, pharmaceutical, energy, government, media & entertainment, consumer goods, etc. |
| Tableau | Offers a proprietary technology that gives interactive data visualization to understand data. |
| Testware Informatics | Provides advanced business intelligence and data analytics solutions to businesses across healthcare, education, manufacturing, e-commerce, finance, insurance, public sector, communications... |
| UNFYD | Offers operational insights to clients with Business Intelligence, Analytics and Visualization. |