20 Most Promising Business Intelligence Solution Providers - 2018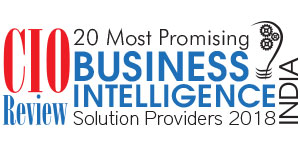 Business Intelligence (BI) platforms are making great headway across a broad range of industries. Enterprises are increasingly harnessing the power of BI to achieve their set business goals. The implementation of a competent BI system presents businesses with actionable insights which translate into an ability to assist key personnel to make better and faster decisions. This revolutionary decision to adopt BI has made businesses more data-driven in order to decrease costs and witness an escalation in profits. In today's age, BI does not require investment in huge hardware infrastructures. One can implement BI on existing hardware or by running it on virtualized hardware in the cloud. But to accomplish this, businesses need to employ the right vendors with the solutions that cater to their unique requirements and possess the technical prowess as BI demands extensive training. Recognizing the potential this sector has, there has been an influx of vendors providing such solutions in the market, making the selection of the right vendor to work with a cumbersome job. Businesses need to find a vendor they can work with rather than employ and guide them to attain their business goals.
CIOReview comes to your aid with a list of "20 Most Promising Business Intelligence Solution Providers". The aforementioned list proffers an inventory of skilled vendors with industry rich experience and a proven track record against their name. An eminent advisory board consisting of CEOs, CIOs, industry analysts and CIOReview editorial team has scrupulously researched and settled in on a select few who we firmly believe can assist businesses to make an intelligent business decision with increased operational efficiencies and simultaneously offering better customer satisfaction.
We present to you CIOTechOutlook 20 Most Promising Business Intelligence Solution Providers - 2018.
Top Business Intelligence Solution Providers
| | |
| --- | --- |
| Blueocean Market | A provider of a portfolio of services in the area of Big Data Engineering, BI and Visualization, Advanced Data Sciences, Digital Engineering and Unstructured Data Analytics etc. |
| Bodhtree Consulting | A provider of end-to-end Business Intelligence and Data Warehouse solutions, as well as Development and integration, and outsourcing services |
| Careator Technologies | A provider of Business Intelligence Service offerings right from consulting, architecture And design, tools, dashboard and implementing services |
| CentraMed, Inc. | A provider of healthcare analytics (SaaS) solutions and services. Its healthcare BI Platform helps hospitals, physicians and payers achieve 360-degree view of clinical and Financial data |
| ChiSquare Consultants | A provider of products and specialized services related to Data Analytics, Customer Analytics, Web Analytics and Financial Modelling, who caters data-driven and continuous business specific... |
| Datamatics Global Services Limited | A provider of Consulting, IT, Data Management and BPM services to several Fortune 500 companies. It delivers integrated BI & Data Warehousing solutions that include Consulting, Data Integration &... |
| DEFTeam Solutions | DEFTeam provides One-Stop-Solution for an end-to-end architecture and implementation of Big Data,Business Intelligence (BI) and Predictive Analytics solutions based upon business requirements using... |
| DSmart Systems | A provider of Business Intelligence solutions that include BI Strategy, Implementation, Social Intelligence, Data Warehousing and Data Visualization |
| EasyReports | A provider of Business Intelligence, Reporting and Analytics, Consulting, and Tally Integrated Solutions to small and medium sized enterprises. |
| Liases Foras | A provider of Business Intelligence and Risk Analytics for supporting Banks, HFCs and Corporates. |
| Netlink | A provider of products and solutions in the Enterprise Data Analytics & BIG Data space |
| Radiare Software Solutions | A provider of Business Intelligence and Visualization solutions that include BI Strategy & Consulting, Customer Intelligence Solutions, and Management Information and Statutory Reporting etc |
| Sengen LLC | A provider of a BI tools, application development & integration, IT staff augmentation, enabled legacy systems and data management & exchange |
| SmartCirqls | A provider of solutions in the area of Operational Intelligence, Business Intelligence and Machine Data, who helps companies manage and analyze big data |
| Starcom Information Technology | A provider of products and services associated to Data Quality, Business Intelligence and Data Analytics. Its BI solution helps meet all business reporting and dash boarding needs |
| Team Computers | A provider of Business Analytics solutions for industry verticals like Automotive, Insurance, Banking, Manufacturing and Government etc. |
| Tenth Planet Technologies | A provider of productivity solutions that are primarily focused on Azure Cloud Platform, SQL Server BI Platform, and SharePoint Server Collaboration Platform. It is engaged in skilling architects... |
| Systweak Software | A provider of implementation & support services for ERP (Compiere, Adempiere, Open ERP), Business Intelligence (Pentaho), and Force.com Platform etc. |
| Teradata India | A provider of business analytics solutions, data and analytics solutions, and hybrid cloud products and services, who serves industries such as telecom, transportation, consumer packaged goods,... |
| Unifylabs Systems | A provider of Business Analytics, who has developed high performance computing and integration ready analysis models, solutions and product frameworks |