20 Most Promising BI Solution Providers - 2017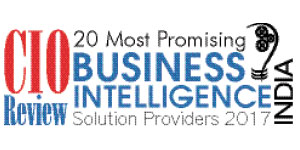 The BI and Analytics market in India is undergoing significant change. Enterprises are increasingly exploring the different styles of analytics to cater to business specifications. Big data use cases are maturing and expanding executive visibility, leading to more investments in BI and information management. Adoption of machine learning techniques, and the emergence of smart data discovery solutions are also fuelling the next round of investments. This shift to the modern BI and analytics platform has now reached a tipping point and organisations are faced with the need to transition to easy-to-use, fast and agile modern BI platforms to create business value from deeper insights through diverse data sources.
As the needs of organisations are evolving, so are the techniques used to leverage BI and Analytics. Enterprises are increasingly enabling real-time automated decision systems whether to streamline operations or mitigate risk. The older rule-based systems are now being replaced by a new generation of systems powered by online machine learning and artificial intelligence. AI and machine learning are revolutionizing the way enterprises interact with their analytics and data management, helping them evolve from static, passive reports to proactive analytics with real-time dashboards that enhance visibility. Self-Service Business Intelligence or Self Analytics is also on the rise, meeting the needs of data producers and consumers alike, adding speed and agility to the process while protecting organizational data and the overall system.
With such rapid evolution in the BI space, it is imperative to locate the best in class vendors who can deliver avant-garde analytics solutions to keep the pace for business productivity. So, here we are with a list of 20 Most Promising BI Solution Providers. Being closely scrutinized by a distinct panel of judges including CEOs, CIOs, CXO, analysts and CIOReview editorial board we believe that these companies can understand the unique demands of the market and streamline ways to significantly contribute to a business' efficiency and productivity.
We present to you CIOTechOutlook 20 Most Promising BI Solution Providers - 2017.
| | |
| --- | --- |
| Bodhtree | A provider of Cloud solutions, Application Maintenance & DBA Support, Website Development & Content Management, Collaboration & Enterprise Portals and Application Integration |
| Cotelligent India | Offers integrated portfolio of services including software-led IT solutions, Enterprise solutions, SOA, Identity Management, BPM and Managed Services. |
| Data Sementics | Provides solutions for Business Intelligence & Performance Management, Advanced Analytics, Mobile BI, Data Visualization, Consolidation, Planning, Budgeting and Forecasting. |
| Datawise | Facilitates BI/Analytics, Consulting, Outsourcing & data mining and incorporating strategic thoughts in cross functional analytical intelligence. |
| Deflytics | Provides services to design, develop, configure, deploy & maintain analytic solutions including Big Data and vertical specific solutions. |
| Edgematics Technologies | Formulates enterprise wide BI strategy & Data management solutions for various industries like Banking, Financial Services, Government, Insurance, Travel & Transportation and Healthcare &... |
| FutureNet | Renders Document Management Services, Search Engine Optimization, Perimeter Security Services and Geographic Information System. |
| GainInsights Solutions | Specializes in retail, banking, HR and marketing analytics leveraging technologies like BIRST, QLIK, SAP business one, SAP Visual Analytics and Splunk. |
| Helical IT Solutions Pvt Ltd | Offers end-to-end BI solution using open source stack making cost effective products that include mobile BI solutions, on premises or hosted SaaS solutions. |
| Intellify Solutions | Focuses on Software Development, Outsourcing and Technology Consulting, to deliver Business Intelligence Solutions using effective onsite-offshore delivery model. |
| Jaspersoft Corporation | Avails Business Intelligence (BI) suite enabling better decision-making through interactive reports, dashboards and analytics. |
| Karsun Solutions | Implements Enterprise modernization & transformation solutions for the Federal Government via solutions involving agile development, Cloud solutions and Data warehousing enabled advanced analytics |
| Kockpit Analytics | Develops Cloud-based pre-configured BI solutions with Self Service Dashboard, Real-time Data Analysis, Key Performance Indicators and Fixed Asset Schedule with Real-time Data. |
| MicroStrategy | Builds capabilities around Data Discovery, Advanced Analytics, Data Connectivity, Big Data, Enterprise Reporting, Embedded BI and Real-Time Telemetry |
| NeoQuant | Avails Managed Services for BI, Analystics, DW, MIS/ODS, Migration and Optimization for clients across various domains. |
| Niteo Technologies | Offers a offers a full spectrum of BI and Analytics services which include Assessment and Roadmaps, ETL, Data visualization, Business Intelligence Competency Centre (BICC) and Analytics Centre of... |
| Palaash | Provides a comprehensive set of services for business intelligence, financial management, regulatory compliance and customer service, to different sectors including Manufacturing, Retail,... |
| SmartCirqls | Provides services involving Splunk, Machine Data & Operational Intelligence to assess and define pain points, KPIs & metrics from Big Data implementations. |
| Synastute | Proffers services that include Website Design & Development, Application Development, Internet Marketing and Software & Application Testing. |
| Velox Solutions | Offers IT Infrastructure solutions including Cyber Security, Monitoring solution, Security Operations Centre (SOC), Mobile Security, Mobile Device Management (MDM) and Network Monitoring System... |